The Best Fruit of the Fall
October 3, 2021
By: Jessica Levinson, MS, RDN, CDN —
One of my favorite things about the changing seasons is the change in produce that comes with it. These days you can purchase pretty much any fresh fruit and vegetable all year long thanks to companies that ship all across the country, but if you want to get the freshest and most flavorful produce, your best bet is to buy what's in season locally (or head to the freezer aisle, where you'll find fruits and veggies that have been flash-frozen at the peak of ripeness). Now that the fall season is well underway, balance out your plate with these fruits and vegetables that are full of nutrients and taste delicious too!
Apples
Apple picking is such a fun fall activity and a great way to stock your fridge with a fruit that has lots of uses. Nutritionally, apples are an excellent source of fiber and a good source of vitamin C. What I love the most about apples is how portable they are – it's the perfect snack to take with you anywhere you go. Add apples to your culinary repertoire by sautéing with cabbage like I do in my Braised Red Cabbage with Red Apples, mixing into your morning oatmeal with cinnamon, or making baked apples for a quick and easy low-sugar dessert. Here are more ways to fall in love with apples.
Pears
Like apples, pears are an excellent source of fiber, most of which is found in the skin, and a good source of vitamin C. There are many varieties of pears, which makes them fun to experiment with in the kitchen. Try adding sliced pears to your next grilled cheese sandwich, puree into a savory soup for added sweetness, or enjoy at breakfast with this Spiced Pear Oatmeal.
Cranberries
You may be surprised to see cranberries in the produce aisle, but luckily they'll be lining the shelves come Thanksgiving and Christmas! Cranberries are only second to wild blueberries in antioxidant power, specifically proanthocyanidins, which have been shown to protect against cardiovascular disease and inflammation. Reduce the sugar in your favorite Thanksgiving side dish by using sucralose in your cranberry sauce, make some oatmeal cranberry cookies, or bake with sweet potatoes and Brussels sprouts for a wintry side dish.
Grapes
Fall is the prime season for table grapes, which come in various colors, contain polyphenols (specifically resveratrol), and are an excellent source of vitamin K. You can eat grapes by the handful, or you can roast them and add to grain salads, use to top a pizza, or even add to chicken salad.
There's no shortage of produce available in the fall, which means there's no reason to be coming up short on your daily intake. Try some of these recipe ideas or head over to Fruits & Veggies More Matters for more inspiration.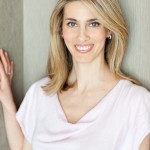 Jessica Levinson, MS, RDN, CDN is a registered dietitian nutritionist and culinary nutrition expert. She has extensive experience as a recipe developer, writer, editor, and speaker. She is the co-author of We Can Cook: Introduce Your Child to the Joy of Cooking with 75 Simple Recipes and Activities (Barron's, 2011), past columnist for the Culinary Corner column in Today's Dietitian Magazine, and maintains a popular blog at JessicaLevinson.com. Jessica is an active member of the Academy of Nutrition and Dietetics (AND) and various Dietetic Practice Groups of the AND, including Nutrition Entrepreneurs, Food and Culinary Professionals, and Dietitians in Business and Communications. Follow her out on Twitter, Facebook, Instagram, and Pinterest.
The post The Best Fruit of the Fall appeared first on Sucralose.