Helpful Tips for Enjoying Healthy Holiday Parties
December 14, 2016
By: Jessica Levinson, MS, RDN, CDN —
The holiday season is in full swing and that means your schedule is probably full of holiday parties and dinners from now through the end of the year. Whether you're a guest or the host you no doubt want to enjoy delicious food and specialties of the holiday season, but you likely also want to maintain your commitment to eating healthfully. Here are some great ways to do so.
On the day of a party, stick to your regular routine.
Don't eliminate meals to save up for what's to come, which can lead to overeating when you get to the party. Instead, start your day with a balanced breakfast, enjoy a light lunch like a salad with grilled chicken, and if many hours go by between lunch and the party have a small snack to hold you over. If exercise is a normal part of your day, make sure you leave yourself time to get it in – burning a few extra calories will leave you feeling good for some extra indulgences!
Socialize, then eat.
No need to rush to the buffet as soon as your coat is checked. Instead, mingle with old friends and meet some new ones.
Check out all the options before you fill your plate.
As you head to the buffet, take into account any passed hors d'oeuvres you may have already had. Keep in mind your plate should be balanced between fruits and vegetables, lean protein, and carbohydrates, with an emphasis on whole grain carbs if they're available.
Drink mindfully.
Calories from alcoholic and sweetened drinks add up, so be sure to stay hydrated with plenty of no- and low-calorie beverages and enjoy a glass of wine, cocktail, or even a cup of eggnog in moderation.
If you're a guest, bring your favorite lightened-up holiday recipe.
Hosts and hostesses always appreciate homemade delicacies they can add to the buffet and you'll rest assured that no matter what is served you have a healthy item to add to your plate. Try this Lightened Up Macaroni and Cheese as a main dish or this Lightened-Up Sweet Potato Casserole with Maple Pecans as a side.
If you're hosting a party, set up a balanced buffet.
When you're deciding on your party menu, keep in mind the components of a healthy, balanced plate. Crudités and fruit platters are classics that don't go out of style and are appreciated by guests. Festive salads, like this Winter Root Vegetable Salad with Pomegranate Ginger Dressing, and roasted vegetable dishes, like these Miso-Roasted Brussels Sprouts and Root Vegetables are always a hit. Side dishes made with whole grains and seasonal fruits and vegetables also go over well. Try this Maple-Roasted Delicata Squash Quinoa Salad or Cranberry Ginger Sorghum Salad. Main courses can be made with lean cuts of meat and a baked fish is a nice option for those who don't eat meat.
Indulge your sweet tooth in moderation.
The holidays are usually filled with many sweet treats, some of which are special for this time of year. Choose a few of your favorites that you don't have the rest of the year and enjoy and savor them. Some desserts to try: Cranberry Apple Pie, Chocolate Pear Bread, and Coconut Rum Balls.
What are you looking forward to serving or eating at this season's holiday parties?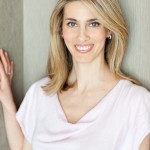 Jessica Levinson, MS, RDN, CDN is a registered dietitian nutritionist and culinary nutrition expert. She has extensive experience as a recipe developer, writer, editor, and speaker. She is the co-author of We Can Cook: Introduce Your Child to the Joy of Cooking with 75 Simple Recipes and Activities (Barron's, 2011), past columnist for the Culinary Corner column in Today's Dietitian Magazine, and maintains a popular blog at JessicaLevinson.com. Jessica is an active member of the Academy of Nutrition and Dietetics (AND) and various Dietetic Practice Groups of the AND, including Nutrition Entrepreneurs, Food and Culinary Professionals, and Dietitians in Business and Communications. Follow her out on Twitter, Facebook, Instagram, and Pinterest.
The post Helpful Tips for Enjoying Healthy Holiday Parties appeared first on Sucralose.