10 Ways to Use Peaches All Year Long
September 1, 2016
By: Jessica Levinson, MS, RDN, CDN —
Peach season is technically almost over (although there's some debate about that!), but there's still some time to enjoy these fresh stone fruits before moving on to the frozen and canned varieties. Whichever way you enjoy them – fresh, frozen, or canned – you don't want to miss out on what this juicy, nutritious and delicious fruit has to offer.
Peaches are a good source of the antioxidants vitamins A and C, and recent research even shows that canned peaches are higher in those nutrients as well as some others than their fresh counterparts. All good reasons to enjoy peaches throughout the year.
So how should you put this juicy fruit to use? Here are some delicious ideas!
Top your bowl of cottage cheese or yogurt with peaches and cinnamon for breakfast. Having company? Make this Breakfast Trifle, which uses a combination of fresh, frozen, and canned fruit.
Roast peaches with maple syrup and use as a topping for oatmeal, pancakes, waffles, or even a scoop of ice cream or frozen yogurt. Try my Peaches and Cream Overnight Oats.
Add sliced peaches to your next sandwich. Use them in place of jelly for a twist on the classic PB&J or pair them with chicken or turkey for lunch.
Top a slice of whole grain toast with ricotta cheese and peach jam.
Add peaches to fruit kebabs for your Labor Day barbecue or your children's lunchbox.
Use pureed peaches in place of eggs, butter or oil, and even sugar when baking.
Grill or bake peaches for a naturally sweet dessert or turn them into popsicles for a refreshing end to a meal.
Bake peaches into muffins, pies, cobblers, and crisps.
The possibilities are endless!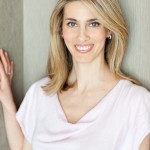 Jessica Levinson, MS, RDN, CDN is a registered dietitian nutritionist and culinary nutrition expert. She has extensive experience as a recipe developer, writer, editor, and speaker. She is the co-author of We Can Cook: Introduce Your Child to the Joy of Cooking with 75 Simple Recipes and Activities (Barron's, 2011), past columnist for the Culinary Corner column in Today's Dietitian Magazine, and maintains a popular blog at JessicaLevinson.com. Jessica is an active member of the Academy of Nutrition and Dietetics (AND) and various Dietetic Practice Groups of the AND, including Nutrition Entrepreneurs, Food and Culinary Professionals, and Dietitians in Business and Communications. Follow her out on Twitter, Facebook, Instagram, and Pinterest.

The post 10 Ways to Use Peaches All Year Long appeared first on Sucralose.