Lighten Up the Calories, But Not the Flavor This Thanksgiving
November 17, 2015
By: Jessica Levinson, MS, RDN, CDN —
Stuffing, pie, and turkey galore, Thanksgiving day can easily lead to weight gain if you're not prepared. But you don't need to limit yourself to steamed Brussels sprouts and fruit salad. Flavorful and delicious food can – and should – be enjoyed, as long as it's done with some forethought and in moderation. Here are five ways to enjoy Thanksgiving without feeling like a stuffed turkey at the end of the day!
Enjoy a nutrient-packed, flavorful breakfast.
Skipping meals may seem like a good way to save calories, but you'll be more likely to overeat later. Start the day with a satisfying breakfast like oatmeal with pears and cinnamon or a smoothie made with protein-rich Greek yogurt like this Blueberry Pomegranate Smoothie.
Prepare in advance.
If you wait until the last minute to get cooking, you run the risk of needing to purchase prepared foods, which will likely have more calories and fat than your home cooked dishes. Not to mention the added stress of cooking as your guests arrive. Make a cooking schedule a couple of weeks ahead of turkey day and cook some freezer-friendly foods like cranberry sauce and casseroles ahead of time. This will also save you from tasting everything in the kitchen Thanksgiving day, leaving more room in your belly for dinner itself.
Drink wisely.
Everyone knows water is king for hydration, but that doesn't mean you can't enjoy a seasonal cocktail or two for the holiday. Keep in mind that alcoholic drinks can increase appetite and lead to poorer food choices, so limit yourself to one drink for women and two drinks for men. To stay hydrated with some added flavor, sip on diet soda or flavor infused water.
Survey the landscape before filling your plate.
Whether Thanksgiving dinner is being served at the table or as a buffet, check out all the offerings before you start piling food on your plate. Rather than taking a little of everything, choose three or four of your favorites, making sure there's a balance of protein (turkey of course!), high-quality carbohydrates (think sweet potato puree), vegetables (Brussels sprouts for the win), and fruit. Studies have shown that the more variety you put on your plate, the more likely you are to overeat.
Save room for dessert.
No Thanksgiving meal is complete without a piece of apple pie or slice of pumpkin bread (at least not for me!). By following tip 4 above, you'll (hopefully) have room for a sweet treat without having to loosen the belt buckle. Taking slivers of multiple cakes and pies may seem like a calorie-cutting strategy, but chances are you'll end up eating more than if you savor one piece of your favorite dessert.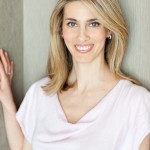 Jessica Levinson, MS, RDN, CDN is a registered dietitian nutritionist and culinary nutrition expert. She has extensive experience as a recipe developer, writer, editor, and speaker. She is the co-author of We Can Cook: Introduce Your Child to the Joy of Cooking with 75 Simple Recipes and Activities (Barron's, 2011), past columnist for the Culinary Corner column in Today's Dietitian Magazine, and maintains a popular blog at JessicaLevinson.com. Jessica is an active member of the Academy of Nutrition and Dietetics (AND) and various Dietetic Practice Groups of the AND, including Nutrition Entrepreneurs, Food and Culinary Professionals, and Dietitians in Business and Communications. Follow her out on Twitter, Facebook, Instagram, and Pinterest.
The post Lighten Up the Calories, But Not the Flavor This Thanksgiving appeared first on Sucralose.